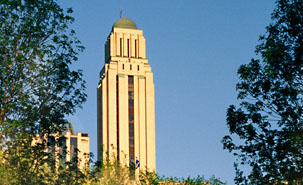 The Université de Montréal has been included in the 2009 Webometrics Ranking of World Universities. Produced by Cybermetrics Lab, a division of Spain's largest public research body, the biannual rankings measure the Web impact of 4,000 universities and their open access to academic materials.
The Université de Montréal, which innovates on the Internet with its presence on
iTunes U
, its online news reports called
Forum en clips
and a multitude of distinct platforms placed 63rd internationally. Stanford University, Harvard University, the University of California at Berkeley, and Cornell University were the top five institutions.
Cybermetrics began publishing its Webometrics Ranking of World Universities in 2004, based on criteria such as the number of links to an institution's Web site from other sites, Web performance, visibility, electronic access to scientific publications and to other academic materials. Rankings are not based on number of visits or page design, but rather performance and visibility of research and scholarly activities.
On the web:
About the Université de Montréal
About Webometrics
For more information:
Sylvain-Jacques Desjardins
International Press Attaché
Université de Montréal
Telephone: 514-343-7593
Email: sylvain-jacques.desjardins@umontreal.ca