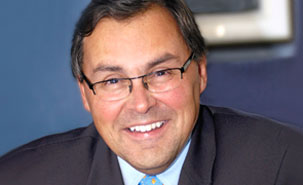 Louise Roy, chancellor of Université de Montréal, is pleased to announce the University Board has selected Guy Breton to succeed Luc Vinet as rector of the institution. Dr. Breton will begin his five-year mandate following the end of Dr. Vinet's term on June 1, 2010.
"Guy Breton is a well respected member of the Université de Montréal community, its sister institutions and other affiliated partners," says Chancellor Roy. "The University Board was impressed by Dr. Breton's dynamic and unifying vision, his solid budgetary experience, his significant faculty contributions as well as his extensive knowledge of the inner workings of our institution. Dr. Breton is a pragmatic leader who is open to change and he is a man of action – traits that will serve him well to deftly handle the many complex issues that are sure to arise during his mandate. The University Board was unanimous in identifying Dr. Breton as the best possible person to assure the full development of Quebec's foremost university."
Dr. Breton will face important challenges as Université de Montréal leader, stresses Chancellor Roy, notably financial and budgetary constraints. These must be solved to ensure the success of the institution's next capital campaign to be jointly launched with its affiliated business school, HEC Montréal, and engineering school, École Polytechnique. As newly appointed rector, Dr. Breton will also need to focus on bolstering the recruitment of international students and the realization of the new Science Pavilion that will be a cornerstone of the Outremont Campus.
About Guy Breton:

A professor in the Faculty of Medicine, Guy Breton is currently Executive Vice-Rector.
A
physician and radiologist, Dr. Breton has been teaching at the Université de Montréal since 1979. He began as an associate clinical professor in the Department of Radiology, Radio-Oncology and Nuclear Medicine, was promoted to full professor in 1994 and became director of the department two years later. In 2003, he was named executive vice-dean of the Faculty of Medicine, where his notable achievements included establishing a round table for members of the UdeM's RUIS (integrated medical education network).
Dr. Breton has played a key role in the future Centre hospitalier de l'Université de Montréal, serving as vice-president of the SICHUM and director of planning for CHUM 2010. His vast experience in hospital management, private practice, running departments and faculties was rewarded in 2009 when he received the Albert-Jutras Prize from the Association des radiologistes du Québec, an organization where he served as secretary and president for 17 years.
On the Web: