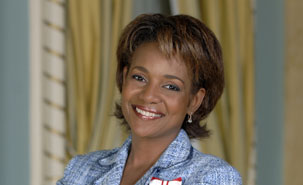 More than 10,000 Université de Montréal students will graduate at several convocation ceremonies held from May 19 to June 23. At each event, the Université de Montréal will present honorary degrees to recognize the societal and professional contributions of notable personalities such as Lise Bacon, Michaëlle Jean and Lino Saputo.

"We will pay homage to these exceptional people who honor the Université de Montréal by awarding them our highest distinction: honorary degrees. Our recipients are wonderful and inspiring role models for our graduates," says Université de Montréal Rector Luc Vinet.
Most convocation ceremonies will take place at the Ernest-Cormier Auditorium in the Roger-Gaudry Bldg. (2900 Édouard Montpetit Blvd., Montreal). Convocations for the Faculty of Music will unfold at the Salle Claude-Champagne (220 Vincent-d'Indy Ave., Outremont), while HEC Montréal ceremonies will be held at Place des arts (175 Sainte-Catherine St., W. Montreal).
Read on for a complete list of Université de Montréal's honorary degree recipients (short bios available
in French
):
May 19, 2010, 11 a.m.
Qifeng Zhou, President of Peking University
PhD convocation ceremony – May 28, 2010, 2 p.m.
Clayton M. Christensen, professor, Harvard Business School
Rita Letendre, renowned Canadian artist
Lise Bacon, first woman elected leader of a Canadian political party and first woman deputy premier
Jean-François Minster, scientific director, Total Petroleum.
Her Excellency The Right Honourable Michaëlle Jean, Governor General of Canada
HEC Montréal convocation ceremony – May 30, 2010, 1:30 p.m.
Jacques Ménard, chairman of BMO Capital Markets and BMO Nesbitt Burns
School of Optometry convocation ceremony – June 4, 2010 at 3:30 p.m.
Brien A. Holden, professor, University of New South Wales in Australia
Thomas Freddo, professor and director, University of Waterloo School of Optometry
Faculty of Dentistry convocation ceremony – June 16, 2010 at 4 p.m.
Lino Saputo, chairman of the board, Saputo Inc.
Faculty of Arts and Sciences – June 17, 2010 at 7:30 p.m.
Roman Jackiw, theoretical physicist and professor, Massachussetts Institute of Technology

On the Web:
For more information on convocations, please consult the Université de Montréal's dedicated site.
Media contact:

Sophie Langlois
Director, media relations
Université de Montréal
Phone: 514-343-7704