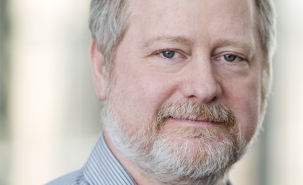 Guy Rouleau has been recognized with a major award from NARSAD (National Alliance for Research on Schizophrenia and Depression), the world's leading foundation dedicated to mental health research. A professor at the Université de Montréal Faculty of Medicine, director of the Sainte-Justine University Hospital Research Center and a scientist at the University of Montreal Hospital Research Centre, Dr. Rouleau has earned one of 15 NARSAD Distinguished Investigator grants for 2010.
The funding will be applied towards a study entitled, "Whole Exome Sequencing to Identify Schizophrenia Genes." Dr. Rouleau and his team have already identified 10 multigenerational families, from isolated rural areas in Pakistan that include a large number of individuals affected with schizophrenia. The clans provide a rare snapshot of genetic homogeneity as members have extensively intermarried and have a higher-than-average number of descendants with schizophrenia.
To date, Dr. Rouleau and his team have collected 250 blood samples among affected family members. More than half have been diagnosed with schizophrenia, schizoaffective disorder or bipolar disorder. Dr. Rouleau now plans to sequence their DNA to investigate gene susceptibility. "Our findings should contribute to the continued effort to identify genes associated with schizophrenia to improve the understanding, diagnosis and treatments of this disorder," says Dr. Rouleau.
NARSAD funding
After reviewing 170 proposals from researchers worldwide, NARSAD selected 15 researchers to receive its 2010 Distinguished Investigator grants. These established scientists, based at 11 universities and medical centers, will each receive $100,000 in research support. Since 1987, NARSAD has awarded 3,790 research grants worth a collective $257 million.
"In my years as head of the National Institutes of Mental Health, I can recall that funding issues were never as sharply focused, or as strongly supportive of psychiatric research and psychiatric disorders, as they could have been," says Herbert Pardes, president of NARSAD's Scientific Council. "An overwhelming majority of scientists doing psychiatric research have been touched in some way by NARSAD, and receiving a NARSAD grant is considered to be an honor and a mark of quality."
On the Web:
Recent studies led by Dr. Rouleau:

Media contact:
Sylvain-Jacques Desjardins
International press attaché
Université de Montréal
Phone: 514-343-7593
Email: sylvain-jacques.desjardins@umontreal.ca