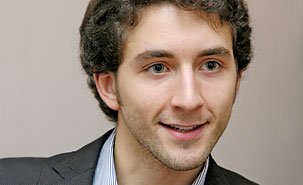 Julien Gagnon has been named one of two Quebec recipients of a 2009 Rhodes Scholarship. The financial support will enable the 21-year-old, who is completing a Master's at the Université de Montréal Department of Economics, to undertake a second graduate degree at Oxford University next year.
"According to his professors, Julien is among the Top 10 students of the past 20 years," says Jacques Bélair, associate dean of the Université de Montréal's Faculty of Graduate and Postdoctoral Studies, noting Gagnon has completed three internships in the last two years: in biological agriculture at a British-Columbia farm, researching coffee crops and working in an orphanage in Honduras.
At Oxford, Gagnon plans on to undertake a Master's in institutional development. "It's the discipline of economics that interests me the most," he says. "Economics provides very practical knowledge, but institutional development is multidisciplinary. It encompasses elements of history, anthropology and politics while providing a broader understanding of social phenomena and the world."
Since October 2008, Gagnon has been involved in provincial politics as president of the Young Liberals of Quebec. While being elected isn't part of his career plan, Gagnon considers his generation too complacent and that's why he joined the Young Liberals. "What interests me is the impact a person can have on his or her community. The more young people turn away from politics, the more politics will turn away from them. The Young Liberals are there to stop that vicious circle," he says.
It would seem that Gagnon has long been on the road to Oxford. In high school, he was class president. In CEGEP, he ran the student paper. During his undergraduate degree, he maintained an A+ average in 29 of his 30 classes and merited a grade point average of 4.3 out of 4.3. Professors at the Department of Economics laud his "intellectual maturity," his "strong economic intuition" and his "strong will to learn."
The Rhodes Scholarship is named after Cecil Rhodes who founded the De Beers diamond company. Every year the award is bestowed upon two Quebec scholars; allowing them to study at Oxford University in England. The second winner of a 2009 Rhodes Scholarship is Jean-Christophe Martel, a Ottawa of University law student.
Previous recipients of the Rhodes Scholarship include U.S. President Bill Clinton, the founder of the Quebec Ministry of Education Paul Gérin-Lajoie, and closer to home, Marc Gaudry of the Université de Montréal Department of Economics, and Jacques Hurtubise of the Centre de recherches mathématiques.
On the Web:
Media contact:
Sylvain-Jacques Desjardins
International press attaché
Université de Montréal
Telephone: 514-343-7593
Email: sylvain-jacques.desjardins@umontreal.ca