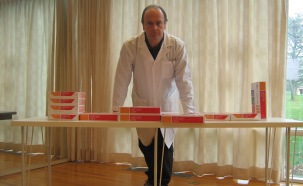 Andrew Granville has long wondered how to make his discipline more accessible to wider audiences. The Université de Montréal mathematics professor got inspired as he watched an episode of CSI, a television program that mingles forensic science with drama. What if he wrote a play about arithmetic?
"People were sceptical, but I thought we might do for math what
CSI
did for forensic science," says Dr. Granville, who regularly writes mathematics popularizations. He is Canada Research Chair in Number Theory at the Université de Montréal
and a visiting professor at the
Institute for Advanced Study in New Jersey
. "Nothing like this has ever been done before in the math world."
After much discussion with his sister Jennifer Granville, a former actor and current screenwriting professor at Leeds Metropolitan University, the siblings joined forces to pen a forensics murder-mystery. The result is MSI (Math Sciences Investigation): Anatomy of Integers and Permutations, which premiers on December 12.
The experimental work will be performed at a 230-seat auditorium at the Institute for Advanced Study – birthplace of the personal computer and final academic home to Albert Einstein. Performance designer Michael Spencer created the MSI set, which includes paper corpses which will be autopsied to reveal math formulas. The score was written by Robert Schneider of "Apples in Stereo."
MSI includes five roles and one narrator who are based on famous mathematicians, such as Karl Friedrich Gauss who co-invented the telegraph and John von Neumann whose applications contributed to the hydrogen bomb. Granville says bringing mathematics to the stage will blur the boundaries between learning and live performance.
"It's hard to get the general public interested in such abstract topics, but people are often happy to listen through something they don't entirely understand, so long as it is presented in an entertaining way," he says. "MSI is an attempt to make math more accessible; we've put a lot of arithmetic and philosophy into this drama, but there is also a focus on character development."
MSI will appeal to both lay audiences and mathematicians, says Dr. Granville, since it's filled with mathematics in the familiar form of a crime drama: "Our No. 1 goal is to get people thinking and reading more about math."
About Andrew Granville
A British native, Andrew Granville is Canada Research Chair in Number Theory and specializes in analytic number theory. Encouraged by the writings of two of his mentors, Paulo Ribenboim and Carl Pomerance, he has long been interested in communicating abstract ideas to a broad audience. His efforts have been recognized by the Mathematical Association of America's 1995 Hasse Prize, the 2007 Lester R. Ford Award and the 2008 Chauvenet Prize. A member of the Royal Society of Canada, Granville was recruited as a Université de Montréal professor in 2002.
On the Web:
Media contact:
Sylvain-Jacques Desjardins
International press attaché
Université de Montréal
Telephone: 514-343-7593
Email: sylvain-jacques.desjardins@umontreal.ca